"I received so much support and encouragement from the staff, and they encouraged me to get better so I could follow my dreams."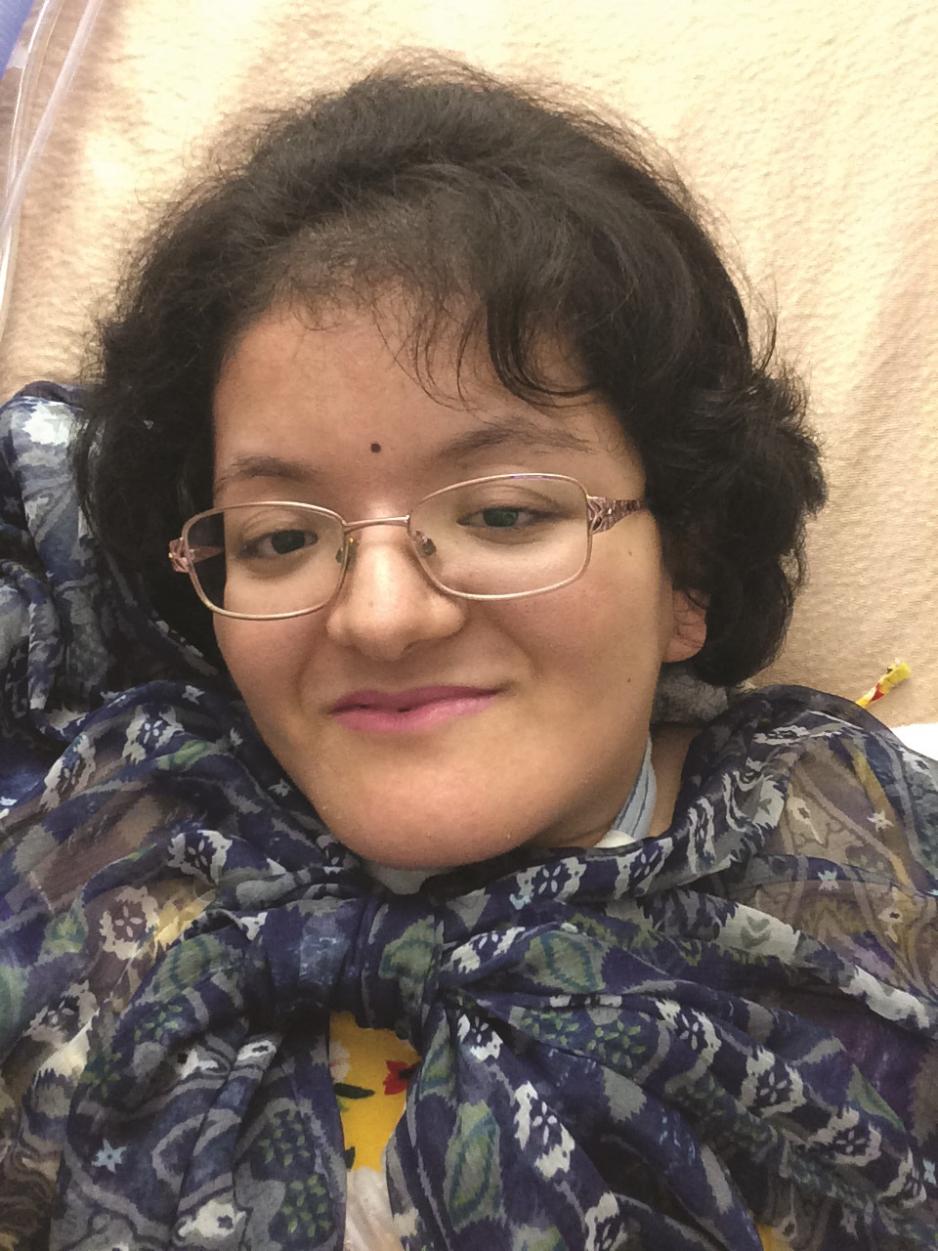 This year, Krisha Amatya is graduating with high honours with a masters degree in management.
For most people, that would be an impressive accomplishment in itself. But what's truly remarkable is that Krisha successfully defended her thesis in February, after almost a year as a patient in Michael Garron Hospital's Prolonged-Ventilation Weaning Centre (PWC).
The PWC is a specialized program for ICU patients who have stabilized from their acute ICU illness, but remain on a mechanical ventilator for more than 14 days and wish to try to breathe on their own.
"Our program is aimed at never having a patient in ICU a day longer than they need to be," says Christene Stevens, manager, medicine health services.
Krisha credits her care team for fueling her desire to complete her degree, in spite of the medical challenges she faced.
"One nurse practitioner would often share with me the progress she was making with her own PhD studies. Whether intentional or not, those conversations really motivated me," she says. "I received so much support and encouragement from the staff, and they encouraged me to get better so I could follow my dreams."
Says Christene, "When we shared with the care team that Krisha had successfully defended her thesis, there was a round of applause. We were so happy for her. It's not easy to complete graduate work period, and Krisha accomplished this while dealing with chronic illness and hospital stays."
The strong bond Krisha and her care team developed during her ten-month hospital stay didn't even require words.
"For much of my stay, I wasn't able to speak, but my mother would read my lips and translate what I was saying to the staff. I really felt like they understood my emotions; sometimes they would just look at my face and know what I was thinking," she says. "I never actually had to have a voice to advocate for myself because they just understood what I needed."Medical staff cared not only for Krisha, but also for her parents, who were by her side throughout her stay.
"The hospital had been told that my mother was going to stay overnight. That first night there was a pullout sofa already there—we didn't even have to ask for it," says Krisha. "And throughout my stay, the staff would often ask how my mother was doing, making sure she wasn't feeling burned out."
As staff got to know Krisha and her family better, they brought in another reclining chair for her dad so he could also stay and enjoy family time together.
"My family and I were really touched by these gestures and by how the staff supported us. They understand that sometimes you just need to be together as family—and they accommodated that."
"Krisha has a very supportive family who was by her bedside throughout her stay," says Christene."Our team recognized how important it was to have her family with her, and we wanted to do whatever it took to support them." 
As COVID-19 began to spread earlier this year, Krisha thought about the staff who had provided warm and compassionate care, and helped her make so much progress. That's why she decided to make a gift through the Grateful Giving program. After she made her donation, Christene and her team were recognized with a thank you message from Krisha.
"I can only imagine how difficult things must be for the respiratory staff at this time," she says, "So I wanted to encourage them and make sure they know that their work makes a difference. They didn't just care for me, they encouraged me to pursue my dreams. With my gift I wanted to thank and recognize them for the profound difference they made in my life."
It's a gesture that means the world to hospital staff like Christene and the PWC team.
"When a patient reaches out to say thank you, it really validates what we do and reassures us that our dedication is being acknowledged. Just hearing thank you makes us feel so happy."
Grateful? Give it forward. A grateful gift is more than just a thank you to someone who made your hospital experience more human. If you or your loved one received exceptional care from someone at Michael Garron Hospital, give them your heart through a Grateful Giving donation. It's a way to pay it forward to others who need their help. Your caregiver will receive a heart-shaped pin and a card from you expressing your gratitude. And you'll know that you're supporting them to do their best work for other patients through your gift. Donate today https://www.mghf.ca/ways-give/grateful-giving