As a local business owner or organizer, you care about making the greatest impact on your community.

Your support of Michael Garron Hospital means so much more than a donation: it is an investment in the well-being of everyone living in East Toronto. And it shows your customers how much you care about them and their families.
Join our Love the East program for local businesses, leaders, and groups, and publicly demonstrate your commitment to your community. Together, we can create better health for all those who live and work in our vibrant neighbourhood.
The benefits of participation
Show that you care about the health of East Toronto—people support businesses that give back

Motivate employees—they'll take pride in helping their community

Earn recognition through Michael Garron Hospital Foundation channels and show everyone that you Love the East
We offer a wide range of benefits to celebrate your support. For more information, download this brochure or contact us.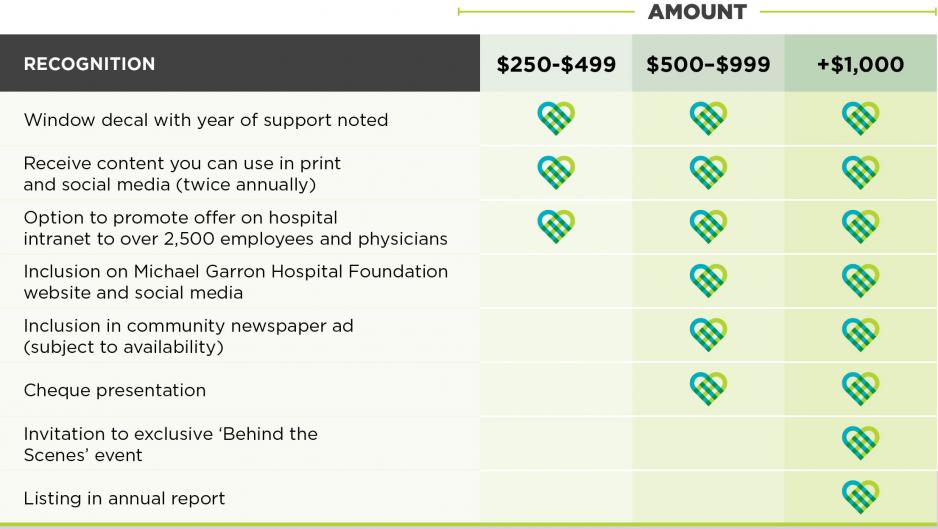 Ways to participate:
Donate a portion of sales

Ask customers for donations at the till

Organize an employee event (ie. jeans day)

Arrange a "pay what you can" class

Give a discount on a service and donate the difference

Hold a lemonade stand
How we can support:
Signage templates

Key messages, including social media messaging

Logo and guidelines for usage
Contact us and we'll work with you to customize a promotion. We can help make your promotion or event a success! 
Thank you to our generous partners: 
Ali's No Frills

Firkin on Danforth 

PetSmart

The Silent Auction Company

Aviva

Juliette Fergus, Broker, Trust Realty Group

Sealed for a Cause

Top Line Roofing Inc.

Celena's Bakery

Kiwanis Club of East York 

Shoppers Drug Mart

Toronto Honda/Toronto Kia

COBs Bread

Mastermind Toys

Sobeys Danforth 

DeClute Real Estate

MFS Investment Management

Stretch Thrift Outlet

 

EllisDon Corporation
North Shores Dental 
The House & Garden Co.
 
Name
Siobhan Flanagan Dell
Job Title
Officer, Intermediate Giving
Location and Office Hours
Michael Garron Hospital Foundation