Neighbours all around Michael Garron Hospital have been filling their windows with hearts for hospital workers.
Each day, a few more hearts pop up in the windows of East Toronto homes and storefronts as more and more neighbours craft thank-you notes to their local hospital workers.
Inspired by the #HeartsForHealthcareWorkers project, East Yorker Jenn Taves and her family decided to fill their home's front window with a rainbow of hearts because they want everyone working at the hospital and connected clinics to know their efforts are seen and that they are appreciated.
"My family put hearts on our window to say thank you to the doctors, nurses, maintenance staff, and all the other frontline workers for their dedication, bravery, long hours, and hard work during this incredibly difficult time."
Designer and artist Lichia Liu created a special display for Gotamago, her charming stationery and art shop a short walk from the hospital. 
"Since the distancing measures began," shares Lichia, "whenever we go out on family walks and come across chalk rainbows on the sidewalk or inspirational messages on the windows, our hearts always feel a little lighter. Since our shop is located right at the busy intersection of Woodbine and Mortimer, and just five minutes away from Michael Garron Hospital, we thought that putting something happy and colourful up on the windows could bring some cheer to people's days, especially those of essential workers as they're commuting home."
Making beauty no matter what
Lichia was inspired by this art project by Caitlin McGauley, who was, in turn, inspired by artist Henri Matisse. In the later years of his life, during a period of confinement for health reasons, Matisse "painted" with paper cut-outs, and often the subject matter was a re-creation of the places he had loved visiting.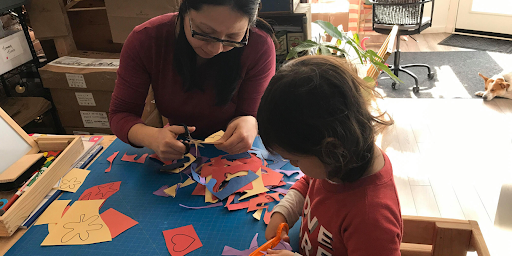 When he could no longer travel to his favourite pool in Cannes, Matisse determined, "I will make myself my own pool." The Swimming Pool, a panel of vivid blue swimmers, filled his dining room in Nice.
The poster paint and construction paper hearts brightening up the neighbourhood are a similar stand-in, a creative way for a community to say thank you when we can't yet be close.
Michael Garron Hospital staff are so appreciative of the uplifting artwork and messages greeting them to and from work. 
__________________________
If you'd like to send a personal message of support to our hospital workers and make a donation directed to Michael Garron Hospital's Emergency Response Fund to ensure they have everything they need to keep all of us safe, please give today.