From home to hospital: how a simple security camera is changing the way healthcare teams deliver care
When Casey McKinnon, vice president, product at Ecobee heard that hospitals were looking for baby monitors to help medical staff care for COVID-19 patients isolated in negative pressure rooms, he had a light-bulb moment.
Ecobee, a Toronto-based company best known for its smart thermostats, recently launched the SmartCamera – an indoor wi-fi enabled security camera featuring two-way talk functionality.
"We had actually planned to launch the camera to market a month prior, and had even debated holding off based on what was happening in the world," says Casey, "but when we heard that hospitals were looking for baby monitors we realized these cameras could be also be very valuable in a clinical setting."
So he reached out to Dr. Patrick Darragh, chief medical information officer at MGH, to see if these cameras could help.
"Early on, hospital staff had to resort to communicating through plexiglass barriers of negative pressure rooms using whiteboards, and pen and paper, or baby monitors," says Dr. Darragh, "and like PPE, monitors have been in high demand. So the addition of these cameras to the patient care setting was very beneficial for the medical team."
He explains that Dr. Michael Warner, medical director of critical care, had a two-fold vision.
"His intent was to have the ability to remotely monitor and assess patients when a physician is elsewhere in the hospital, or even quarantined at home," he explains. "Because the camera connects to a mobile device, a physician could essentially coach other medical professionals in caring for a patient by providing assistance remotely."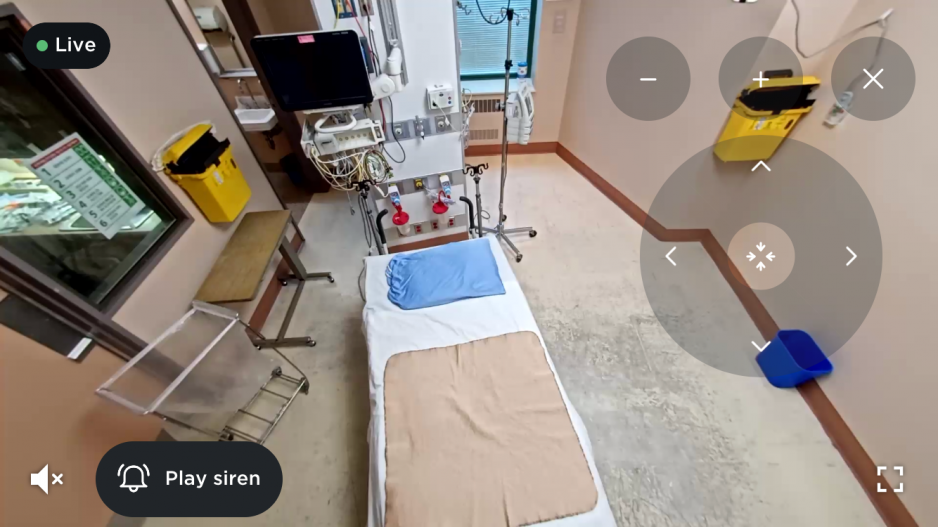 Although hands-free voice-activated technology is increasingly common in homes, many hospitals don't have it. And with two-walk talk functionality and high-powered microphones built right into the camera, ecobee's SmartCamera is a vast improvement over baby monitors.
"A physician can have a conversation from wherever they are in the hospital, or even at home, because it connects back to their mobile device," explains Casey. "And the camera's quality, and panning zoom function, allows healthcare workers to visually move around the room, zoom in and maintain crystal-clear imagery, unlike baby monitors which have poor range and image quality." 
As part of a pilot project to trial use in the ICU, ecobee has donated ten cameras to Michael Garron Hospital, collaborating with hospital medical staff to gather feedback.
 For Dr. Darragh, the cameras have been invaluable.
"I recently had a COVID-positive patient who was transferred into one of the negative pressure rooms in ICU, and I was able to monitor their vitals and clinical status after I was called away to care for another sick patient in the emergency department," he says.
"These cameras have been instrumental in helping us care for COVID-19 patients, and medical staff in the ICU are extremely grateful for the donation," says Dr. Warner.
And for the team at ecobee, it's been a perfect opportunity to make a difference in an uncertain time.
"This has been a real morale booster for our team," says Casey, "and we're thrilled to realize that together, we can do just a little bit of good."