How Michael Garron Hospital saved Xiu Feng Gu when nearly all hope was lost.
Six years after his dad's passing, Li Chen stood in a Toronto emergency department looking at his unconscious mother, who had been resuscitated and placed on a ventilator after her heart and breathing stopped. He was terrified seeing his mom, Xiu Feng Gu, this way.
At 71 years old, she had been healthy and living independently in her East Toronto apartment. She loved walking for hours at a time and cooking family meals for Li, his wife Gloria and their son.
A few weeks before her eventual transfer to Michael Garron Hospital, Xiu Feng had called Li around midnight. "She told me she was really sick, that she felt like she was dying," says Li, who wondered if his mom had COVID-19 due to her cough and sore throat."
Li jumped out of bed, drove across the city and brought her to a North Toronto emergency department. Doctors also thought Xiu Feng's symptoms were COVID-related, so they assessed her, did a PCR test and sent her home. Twenty-four hours later, her results turned up negative. "But my mom was still very, very sick. She said she couldn't breathe," Li recalls.
They returned to the emergency department. Li couldn't go into the hospital with his mom due to COVID restrictions at the time, but they stayed in touch by phone as Li waited in the parking lot. Hours into her visit, Xiu Feng told Li she expected to be out in 30 minutes.
"I waited 45 minutes, and I knew something wasn't right," says Li, who called the emergency department only to learn that his mom had suffered a cardiac arrest.
Inside the emergency department, Xiu Feng "was like a dying woman. She was unconscious and all these tubes were coming out of her body," Li says. He couldn't help but think of his dad, who was placed on a ventilator following the brain bleed that ultimately claimed his life. "In the beginning, I really thought I had lost her."
Li's wife, son and church "brothers and sisters" soon joined him outside the hospital to provide vital emotional support.
An alarming discovery
Xiu Feng was rushed to the hospital's Intensive Care Unit (ICU), where doctors discovered that an extensive bacterial infection in her neck and chest had sent her body into septic shock and caused the cardiac arrest. Over 15 days, they administered antibiotics and operated five times in efforts to clear the infection.
It was an emotional roller coaster for Li, whose optimism would rise and fall along with that of his mom's doctors. "Every minute felt like a day," he says.
With Xiu Feng's odds of survival down to just 30%, her doctors reached out to Dr. Tony Eskander, a Head and Neck Surgeon at Michael Garron Hospital, asking if there was anything he and his colleagues in thoracic surgery could do to save her life.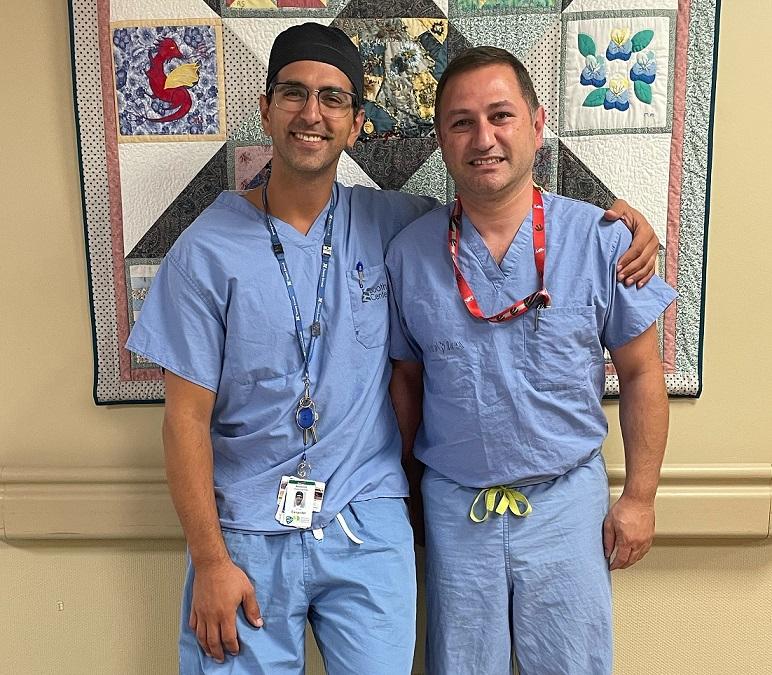 "We were well-positioned to care for Xiu Feng given the high volume of intricate head, neck and chest surgeries we perform and strong collaboration among our surgeons," says Dr. Eskander. "Our ICU also has specific expertise in caring for patients recovering from these major surgeries."
When Li heard his mom was being transferred to Michael Garron Hospital, he felt relieved. He and Xiu Feng were familiar with our hospital, as she had received excellent orthopaedic and emergency care here previously.
Soon after Xiu Feng arrived at our hospital, Dr. Sayf Gazala, a Thoracic Surgeon, phoned Li to assure him that he and Dr. Eskander would do everything they could for her. 
The two operated on Xiu Feng from 1 a.m. to 6 a.m. During the highly complex procedure they meticulously removed bacteria from her neck and chest, as well as fluid from around her heart. Like they had done many times before, the pair assisted one another throughout the surgery, with Dr. Gazala supporting Dr. Eskander as they focused on Xiu Feng's neck and vice versa while they worked on her chest.  
Dr. Gazala called Li shortly afterwards to share that the five-hour operation had been a success, giving Li much-needed hope.
Tears of joy
One week later, and about a month after Xiu Feng had lost consciousness, she was weaned from her sedation. Li recalls being brought to tears when he had a video call with her minutes after she awoke. "She was awake and smiling. I was so happy."
After being released from our ICU, Xiu Feng spent two more months in our hospital. A multidisciplinary team of doctors, nurses, physiotherapists, speech language pathologists and others helped her regain her physical strength, her ability to perform essential daily activities and her capacity to breathe without medical assistance.
Today, Xiu Feng lives with Li and his family, and is nearly back to her usual self. She is again enjoying hour-long walks and bringing everyone around the dinner table for her delicious meals.
With Li translating, Xiu Feng says she is immensely grateful for the life-saving care she received at Michael Garron Hospital. No matter how much help she requested while recovering, she adds, staff always responded quickly and with kindness.
"I felt like I was treated like a family member," she says with a smile.
Donate today
Your donation will help our staff provide the best possible care for thousands of patients every day.
---
Follow us on social media – Instagram: @MGHFoundation, Twitter: @MGHFoundation, Facebook: @MichaelGarronHospitalFoundation