Maria (Mary) Relova is one of the unsung heroes of the COVID-19 response. She's a member of Michael Garron Hospital's Environmental Services team, which keeps the hospital clean and safe for staff and patients alike. 
These days, her job is a bit different than usual. Many times a day, Maria makes the trip between the information desk in the hospital's Coxwell lobby and the laundry facilities in the basement.
"It's nonstop, all day, 9 to 5," she says.
That's because literally hundreds of masks have been pouring through the hospital doors since the #MGH1000masks challenge was issued on March 27.
Dr. Jeff Powis, the hospital's Medical Director of Infection Prevention and Control spearheaded the initiative, which will distribute handmade cloth masks to approved hospital visitors, discharged patients and members of the community, especially elderly and vulnerable individuals and those who provide care to them.
The community's response has been "overwhelming," says Mitze Mourinho, President, Michael Garron Hospital Foundation. "During such a difficult time, it's so inspiring to all of us at the hospital to watch everyone pull together to keep East Toronto safe and healthy."
And how does Maria feel about her new duties? "I'm so grateful," she says. "It gives me goosebumps to see how much the community cares and is helping."
What happens to your masks when they arrive at the Heart of the East? Find out below!
1. Our volunteers gather the donated masks behind the information desk in the lobby, emptying the donation box several times a day.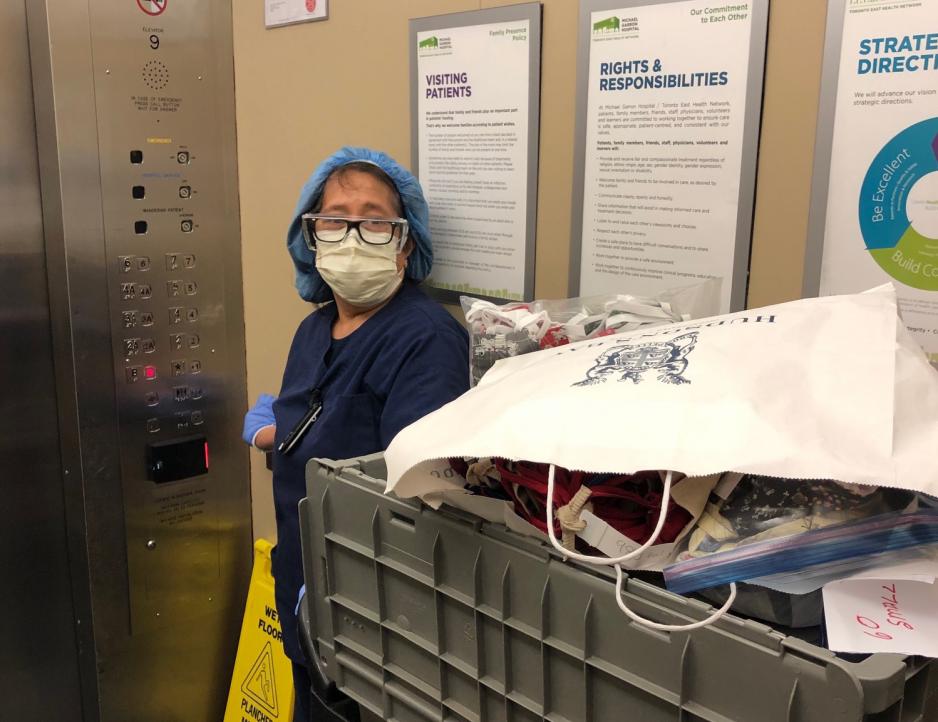 2. Maria goes to the information desk several times a day to gather the masks and brings them downstairs to the Environmental Services laundry facilities. 
3. Maria takes the masks out of the bags and boxes they were donated in (setting aside contact information so we can say thanks!) and gets them ready to put in the wash. 
4. Maria washes the masks in hot water and takes them to the dryer.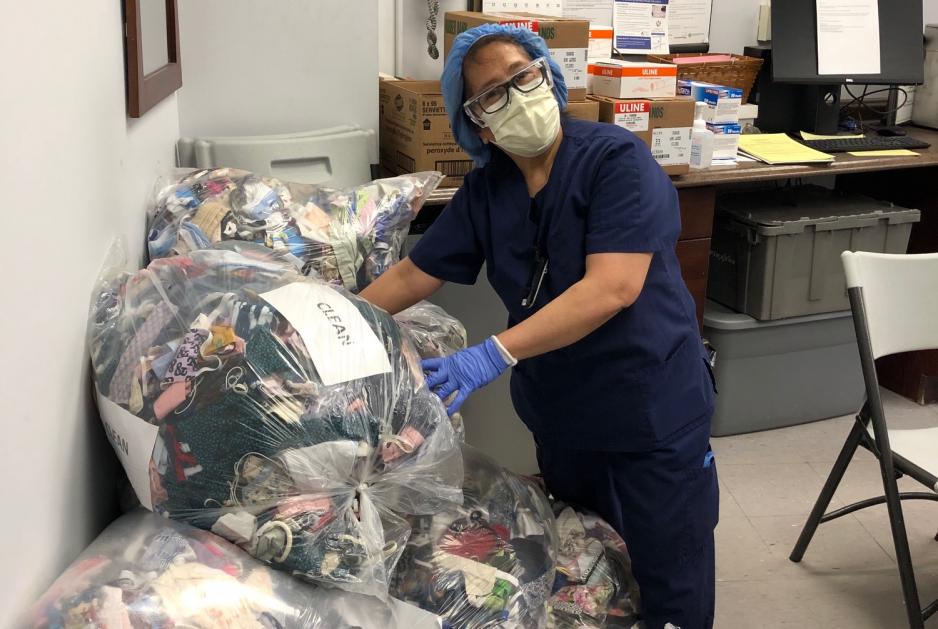 5. Once the masks are clean and dry, Maria brings them upstairs to our volunteer lounge where they are placed into bags for distribution. 
6. All clean and ready to go to their new home! Thank you so much to everyone who's sewed masks to donate to our #MGH1000Masks challenge. Keep them coming!