Donor support is helping drive the purchase of advanced equipment to provide expert care to our patients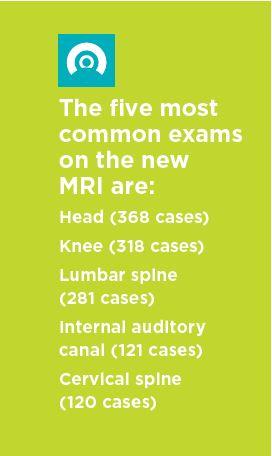 MRIs are critical hospital equipment. They allow physicians to diagnose illnesses, monitor disease progression, and provide treatment for a spectrum of health conditions from arthritis to cancer. In 2018, Myron and Berna Garron's generous gift allowed us to purchase a new MRI to replace the hospital's aging equipment, which had served the East Toronto community since 2002.
The new machine is a dramatic improvement over the old one on many levels, especially patient experience. The bore is larger, meaning it is more comfortable and able to accommodate larger patients. It also scans significantly faster, meaning less time in the machine and shorter wait times, which were previously up to 6 months for patients with less serious but still life-altering conditions like rheumatoid arthritis. And perhaps most importantly, image quality has been greatly improved, meaning more precise diagnoses for a wide range of conditions.
Since going live in January 2019, the new MRI has scanned over 2,000 cases—a 10 per cent increase in capacity year-over-year from January to November 2018. The new MRI has been able to handle a diverse variety of cases, with almost 90 exam types performed.