Ask any Rotarian why they're a member, and the answer is likely the same: to give back to the community.
For members of Toronto East Rotary Club, "Service above self" isn't just a motto, it's the motivation to take action and create lasting change in their neighbourhoods.  
"People talk about winning the lottery, but as many have said, by living in Canada we've already won the lottery," says Karen Somerville, Rotary Club member and past president. "It's important to give back in some way, because we are so fortunate to be here in the first place." 
Born and raised in East York with deep ties to the community and the hospital, business owner, past president and current Rotarian Steve Mastoras says that giving back is important to help neighbourhoods thrive. He especially encourages local businesses to support their community. 
"This hospital needs the support of our neighbours," he says. "We hope that we can inspire everyone, including local business leaders to make a commitment to giving back and improving health care close to home."
A long history of giving back to Michael Garron Hospital
Rotary club members consist of community business owners, executives, managers, political leaders, and professionals – people who make decisions and influence policy. Since inception in 1965, the Toronto East Rotary Club has supported a number of community projects and organizations.
The club has a long history of giving to Michael Garron Hospital, dating back over three decades. They've supported various capital campaigns, equipment and programs. Last year the Toronto East Rotary Club committed to donate $50,000 over five years to the Heart of the East Campaign through several initiatives including the Joe Runza annual Skate-a-thon.
Icing cancer
Three years ago, driven by a desire to raise money for organizations that had provided excellent care for his friends and family dealing with cancer, Toronto East Rotary Club member Joe Runza initiated the "Ice Cancer" Skate-a-thon. He raised over $7,000, skating 100 laps in one hour at the East York Memorial Arena. In year two, Joe recruited president-elect Jim Anastasiadis to join him.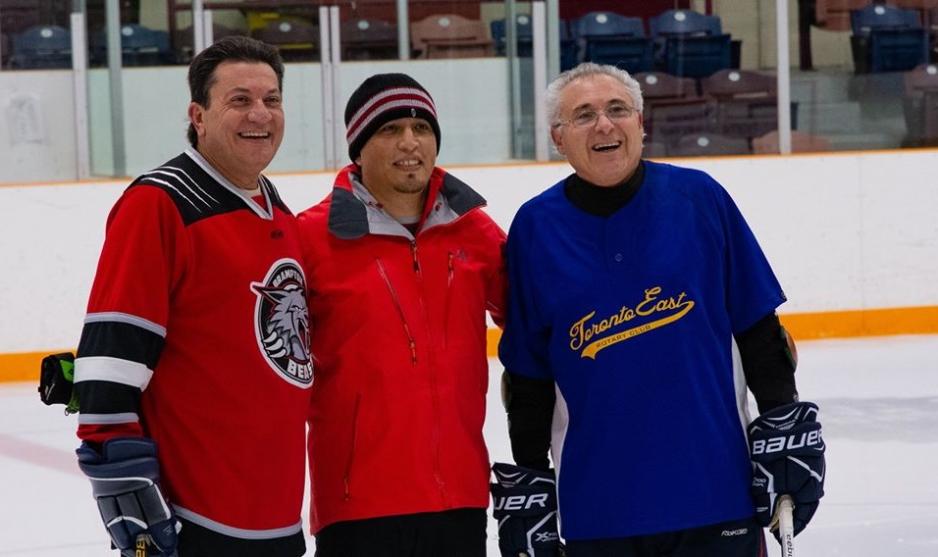 "The first year Joe did the Skate-a-thon on his own, so he said 'next year, you're doing it with me,'" says Jim.
Together the duo bumped the total raised up to about $9,000. In 2019, supported by 50 sponsors and an anonymous benefactor, the club raised a record amount of $20,000.
The anchor of our community
Many club members have a personal or family connection to Michael Garron Hospital, and supporting the hospital allows them to play a big part in helping to usher in a new era of health care in East Toronto.
"The hospital's redevelopment project is very tangible; you can actually see the end goal and visualize the difference that having modern hospital facilities will make to this community," says Jim. "Michael Garron Hospital really is the anchor of East Toronto."