Scholarship program supported by the Carswell Family Foundation invests in the futures of Michael Garron Hospital volunteers.
Michael Garron Hospital's (MGH) 500 volunteers are a vital part of our hospital team. From warmly greeting patients at the information desk to ensuring our Stavro Emergency Department is well-stocked with essential supplies, volunteers assist in over 40 different areas of MGH, complementing the high-quality care provided by our clinicians. Since 2013, the Carswell Family Foundation has shown its appreciation for the work of our volunteers by generously investing in their education.
The Carswell Family Foundation Volunteer Scholarships support student and adult volunteers pursuing post-secondary studies or healthcare-related education. To date, a total of 123 scholarships – made possible by $317,000 in donations from the foundation – have been awarded to help recipients cover the cost of tuition and course materials.
Denny Petkovski, MGH's Director of Volunteer Services and Special Projects, says the scholarships are immensely appreciated by our volunteers. "We're so grateful to the Carswell family for investing in the futures of our volunteers and for being such wonderful supporters of MGH overall," he says.
Piranavvan Nagarajan received a Carswell scholarship in 2019, two years after he began volunteering in our Stavro Emergency Department as an undergraduate in human biology and psychology at the University of Toronto. He's now studying at Fanshawe College to become a respiratory therapist, a profession that has been at the forefront of the COVID-19 pandemic as many patients with the disease have required mechanical ventilation and other breathing interventions.
For Nagarajan, the scholarship provided a big financial boost, in addition to giving him extra motivation to work toward a career in healthcare. "This kind of recognition makes you think, 'I'm doing something right,'" he says with a smile.
"I want to work at MGH and grow with it," adds Nagarajan, whose years as a volunteer and part-time MGH employee have greatly influenced his career path. He appreciates all the helpful advice he's received from people across the organization. "It's been a dream of mine to have a career where I can help people. And being able to meet all these different people at MGH and make these connections with them has just reinforced that."
Tears of joy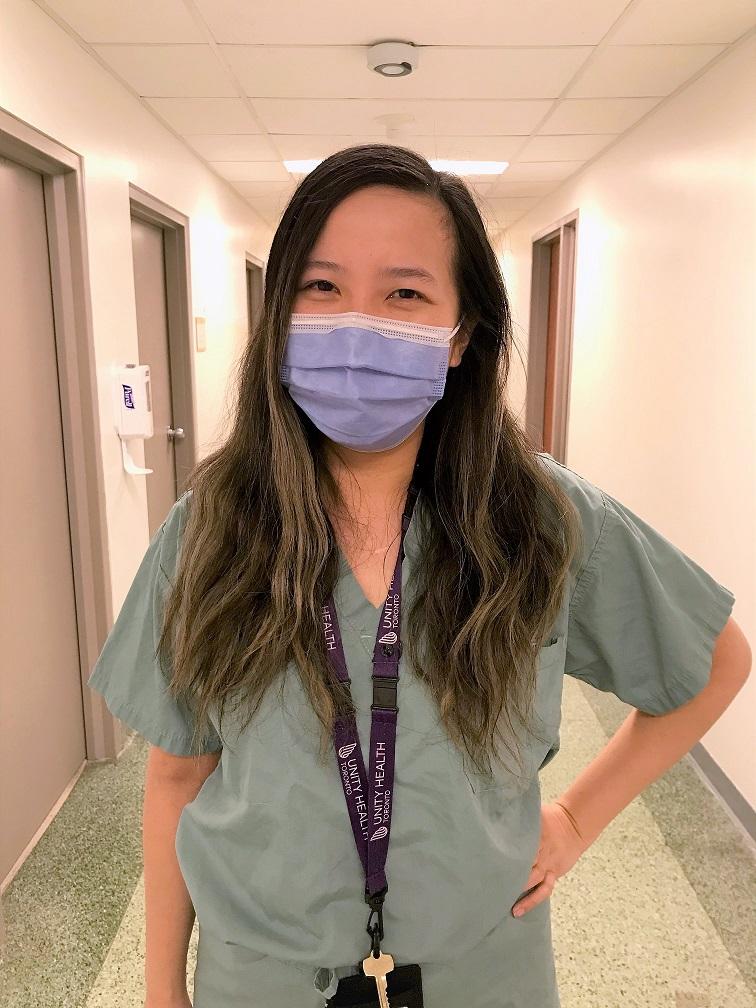 Though former MGH volunteer Sharon Lam received her Carswell scholarship way back in 2013, she clearly recalls the day she learned she would be a recipient. "I still remember crying that day! It was amazing," says Lam, now a Clinical Nurse Educator at St. Michael's Hospital in Toronto.
The scholarship made a "huge difference" by covering a year's tuition at Ryerson University's nursing program. It also meant she didn't have to fret about taking on a student loan that year.
Lam remembers becoming a volunteer at the age of 15. She didn't know what she wanted to do for a career, but it didn't take long before she fell in love with being able to make a difference in the lives of patients. A career in nursing seemed a natural fit. Now over five years into her career, one of Lam's favourite things about nursing remains having the "privilege" of providing compassionate care to patients and their loved ones, whether in times of joy or sorrow.
A history of giving
Through their family foundation, Dr. Allan Carswell and Helen Carswell have been exceptional supporters of MGH for over 20 years, generously giving of their time and resources. Their connection to our hospital goes back even further: Dr. Carswell was born here, Mrs. Carswell was a nurse here in the 1950s and the couple actually met at the hospital.
"I'm just very pleased that we can play a part in what is a very important, ongoing activity," Dr. Carswell says of his family's support of education at MGH.
Assisting educational initiatives has long been a priority for the Carswells. Beyond supporting volunteer scholarships at MGH, they have also donated $1 million to establish the Carswell Family Centre for Medical Education as part of MGH's transformational redevelopment. Set to open next winter, the leading-edge centre will include a medical library, classrooms and comfortable spaces where on-call residents can sleep, study and prepare meals.
Mitze Mourinho, President of MGH Foundation, says that "the Carswells' commitment to the advancement of education and healthcare is inspiring. Their generosity helps make Michael Garron Hospital a destination of choice, where our volunteers and staff alike continue to be encouraged to grow and learn. We're so fortunate to count Allan and Helen among our closest supporters."